Working with the insurance industry: A Senior Associate perspective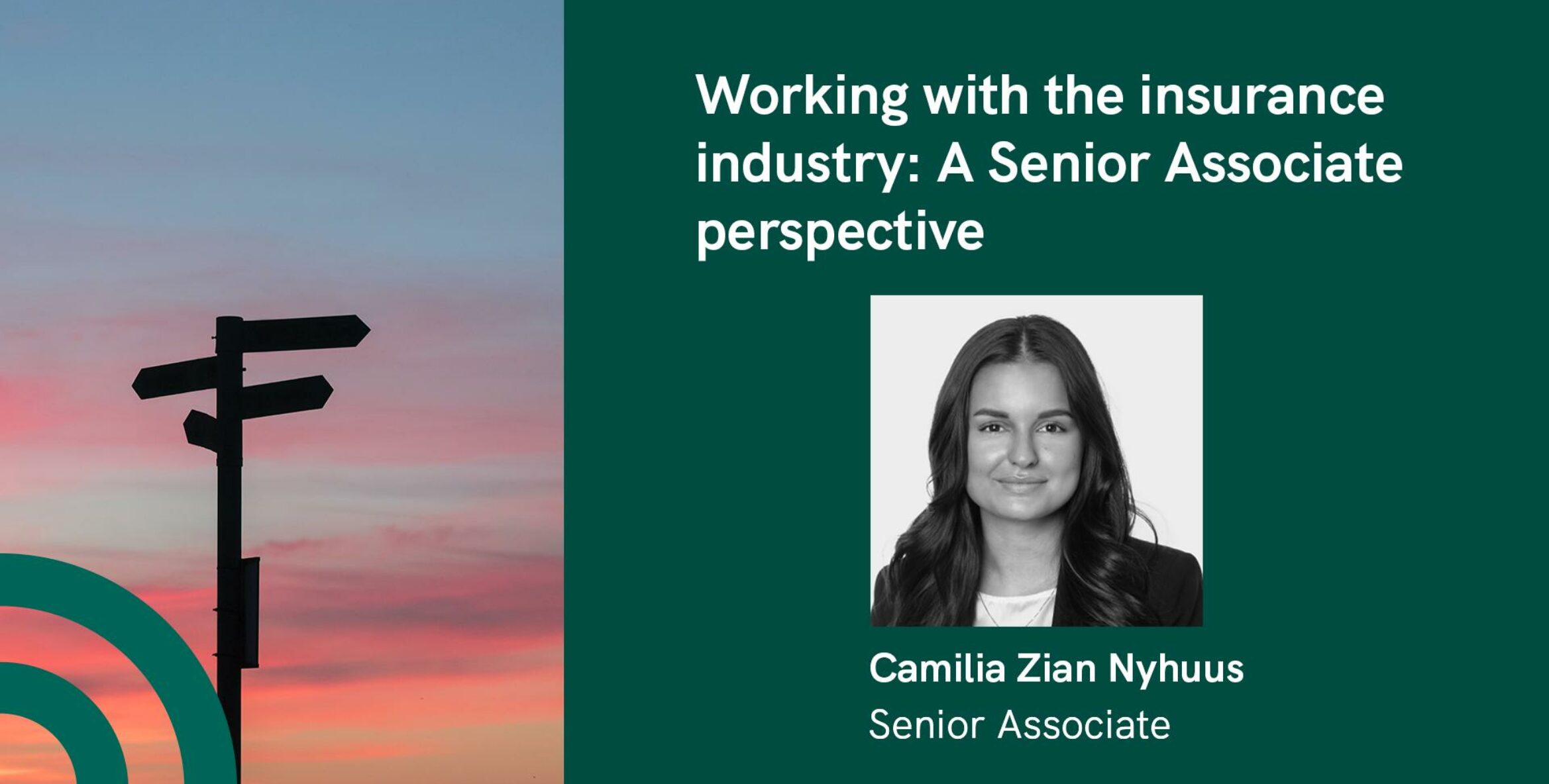 Who are you and what do you do?
My name is Camilia, and I'm a lawyer working with insurance in the legal and compliance team at FCG. I handle legal and compliance matters and questions.
What previous experiences do you have and what brought you to FCG?
It's kind of a funny story, but I started working part-time at an insurance company while still at university. As a coincidence, I worked as a claim adjuster and then developed from there. I worked within the insurance company for approximately four years, which sparked my interest in insurance. During my last year at university, I saw some posters in our classrooms and at the university about FCG and their associate program, which made me curious. A year later, when I saw that they were searching for a lawyer within insurance, I couldn't help but apply.
What is it that makes insurance such an interesting field?
As I said, I started to work with insurance early in my studies. I found that working with insurance was a perfect balance between the financial sector and working with governance questions and customer questions. It is a field that is constantly evolving and requires a lot of knowledge in different areas of law. On a normal working day, I may get several different questions, such as customer complaints, product development or sustainability.
Who do you think thrives at FCG?
I think a curious worker who is willing to go the extra mile for customers and never wants to stop learning new things would thrive at FCG. Day by day we learn new things and experience new types of questions, which is the fun part. To fit in the role as a consultant at FCG, it is also important to have good collaboration skills and work on several tasks at the same time. We often work in teams and with several different clients.
What is it about your team that makes it so good to work in?
Although I am a lawyer, in my team I work very closely with different colleagues and experts in, for example, risk and actuarial. This is incredibly valuable because I learn a lot about the whole spectrum, not just the compliance and legal part. Our managers also believe in us, which is important as it gives us a lot of personal responsibility and space to grow as individuals.
What are some projects or initiatives that you have been involved in?
I have been involved in several implementation projects. I am currently supporting two insurance companies with the implementation of the new technical standards related to the Sustainable Finance Disclosure Regulation, which will come into force on the 1st of January 2023. I also work with many projects regarding governance and internal control.
What are your predictions for the future of the insurance industry?
We have already seen an increase in regulatory requirements, both within sustainability and the IT sector. The requirements have expanded and become more complex, which puts us lawyers to the test. I think the regulatory area within Sustainability and IT will continue to grow, which will create great opportunities but also challenges. Insurance companies and insurance distributors will have to be adaptable, although these steps are important and necessary in order to work towards a more sustainable future.