Key takeaways from one of this autumn's most important events, Financial Fraud Forum 
Profits from fraud are higher than from narcotics trading. The increase was 30% in Sweden 2021. Card fraud, investment and romance fraud, vishing and smishing are growing and largely controlled by organised crime groups.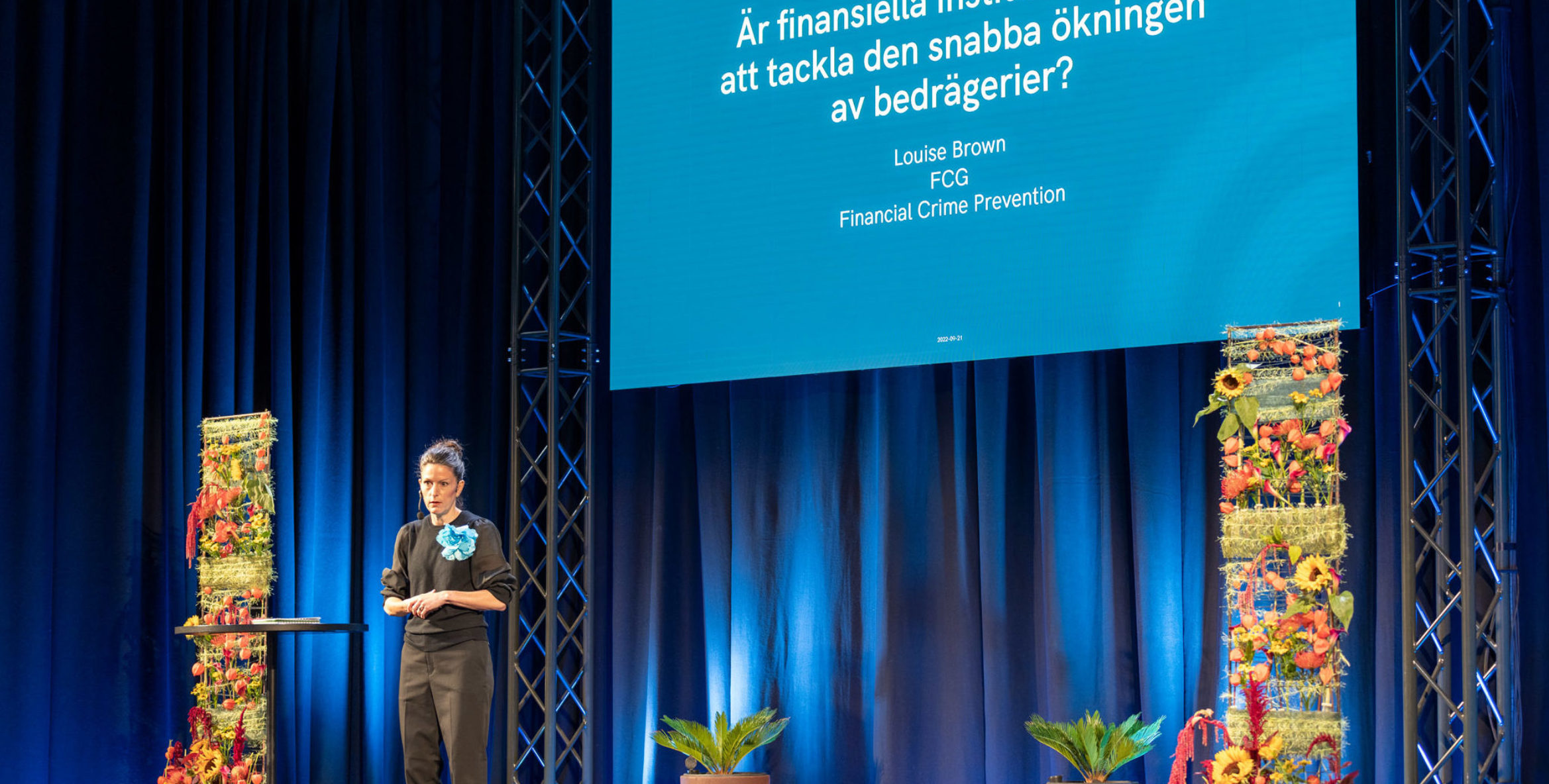 Photo: Liza Simonsson
FCG with Louise Brown participated on stage during Financial Fraud Forum held in Stockholm yesterday to discuss how financial institutes can leverage data and processes within AML to prevent fraud, and what changes that are expected in both systems and organisations to manage the new risk environment. 
Fraud is growing at record speed, with an annual increase of 30% and profit margins exceeding drugs trading. Fraud is high on the agenda, not in the least due to the Supreme court case June 2022 which indicates increased risk of compensation for financial institutions.
"On the one hand escalating crime is discussed, on the other highly sophisticated solutions and the potential of AI-applications. What we see is that the gap between the two can be closed, there are resources, however that some very important steps need to be take to set the conditions in terms of frameworks and models right first," says Louise Brown. "KYC data is really key, and AML can contribute a lot to achieve effective and efficient fraud prevention measures."
The key question is if financial companies are equipped to prevent fraud. Some selected recommendations for how organisations can move forward can be to:
Effectively ensure that AFC controls are as holistic as possible.
Make use of KYC process for fraud risk assessment and leverage data. Benefits for fraud prevention to work more closely with AML to establish scenarios and make efficient use of real time monitoring for fraud.
Focus on creating intelligence-led responses, not just regulatory compliance, and use use data science and other technologies for smarter and quicker analysis of suspicious behavior.
Financial crime is complex and financial companies today need to take an integrated approach to be successful and efficient, and moreover include financial crime risk in 3rd party risk assessment.
A summary and blogg from Financial Fraud Forum is available here: 
Financial Fraud Forum 2022 i en sammanfattning – credma
To access more information on financial crime prevention and fraud management, please visit our
website or contact Louise Brown.